Author: Jerry Lockett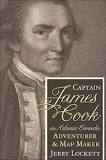 Formac Publishing Company Limited, Halifax, NS Hard Cover $29.95 CAD
Most of us know Captain James Cook as the famous British sea captain that explored vast reaches of the Pacific Ocean. Jerry Lockett's closing chapter does, indeed, provide details of Cook's three epic voyages, beginning in 1768 and ending in 1779 with his violent and tragic death during a confrontation with native Hawaiians. However, the author's six preceding chapters set the stage for what was arguably the greatest nautical exploration in history.
This well-researched book documents Cook's development from a lowly seaman into a world explorer within the context of 18th century Atlantic Canada, when Britain's navy reigned supreme. During the seven-year war between England and France (1756 –1763), Cook advanced rapidly in rank. This accomplishment was largely due to a strong work ethic (always doing more than expected), which earned him the respect of influential men, most notably his various commanding officers. Serendipity also played a role: a chance encounter with an American surveyor introduced him to the "plane table," a device he subsequently employed to survey harbours and coastlines in Atlantic Canada, including the coast of Newfoundland which he surveyed between 1763 and 1767. His well-recognized chart-making skills, a proven knowledge of Astronomy, and a timely endorsement by the Secretary of the Navy all led to his assignment by the Admiralty to explore the far side of the world.
A chapter is devoted to scurvy, a debilitating disease that had been the scourge of mariners on long ocean voyages for centuries. Cook had witnessed hundreds of crewmembers dying of the disease during his earlier years. Theories abounded about causes and cures. Even Cook, on his several voyages, thought scurvy could be prevented by feeding his crew sauerkraut and spruce beer, which were of only limited value because they contain small amounts of vitamin C. Joseph Banks, a naturalist who accompanied Cook on his first voyage, successfully treated his own scurvy with lemon juice. Why Cook, normally a keen observer and recorder, ignored this particular outcome is unclear. Yet, he did manage to curtail the disease among his crew and for doing so was awarded a medal by the Royal Society.
Appendix I (appropriately labeled "Too Many Cooks") presents the extraordinary coincidence of having three James Cooks serving in the Royal Navy at the same time. All three were surveyors; one even drafted a chart of Halifax Harbour. Lockett sorts out the differences between the men, which he indicates, "has befuddled more than one poor researcher attempting to examine this period of Cook's life."
Illustrations are scattered throughout including portraits of Cook and other significant men, charts, letters, logbook notations, and harbours. Readers who appreciate historical detail and want to learn more about the famous explorer will find this account of Cook's formative years both interesting and enlightening.