Joshua Slocum, 1956, Dover Publications, Inc., NY, 294 pages, illustrated paperback, $6.95 USD.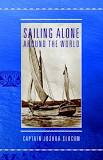 In April 1895, 51 year-old Captain Joshua Slocum set sail from Boston in his 37' sloop, Spray, which he completely rebuilt for the purpose of sailing single-handedly around the world. Up until then, no one had accomplished this feat and an "expert" proclaimed that it could not be done. Three years and 46,000 miles later, Slocum completed his circumnavigation and shared his adventures in this book, first published in 1900.
What makes this story so engaging is the casualness with which Slocum describes what most would consider terrifying experiences: Avoiding a Moorish pirate off Gibraltar by altering course back across the Atlantic to end up going around the world in the opposite direction!  Falling into the water from a swamped dinghy and suddenly remembering that he could not swim.  Scattering carpet tacks on deck to foil a nocturnal attack by marauding Fugian natives in the Strait of Magellan.  Dodging coral reefs in the West Indies for lack of a chart eaten earlier by a goat received as a gift on the island of St. Helena.  Even the worst gales and storms were perceived with a thrill — of delight.
Contributing to the success of this voyage was the extent to which the Spray, being so well balanced, maintained its course with the steering wheel lashed down. On one run of 2700 miles over 23 days, Slocum never touched the helm for the entire distance.  In addition to a seaworthy vessel, Slocum maintained that intelligence and skill reduce the dangers of the sea to a minimum, that the hardships are for the most part exaggerated, and that any young man contemplating such a voyage should go for it.  Assuredly, his fascinating story has inspired many sailors to circumnavigate in search of adventure.
As a postscript, in the years between 1905 and 1908, Slocum made annual solo cruises in the Spray from New England to the West Indies for his winter vacations.  On November 14, 1909 he again set sail and was never heard from again.  Perhaps the combination of a worthy vessel and experience needs to be supplemented with a ration of luck to ensure a safe voyage on the high seas.