Author:  Sam McKinney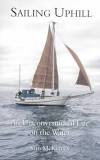 Publisher: Horsdal & Schubart Publishers Ltd.
Victoria, BC, Canada
Copyright: 2000
 About half of this 163 page softcover book, Sailing Uphill, describes a voyage the author took across North America over a period of four summers.  Beginning at the mouth of the Columbia River and ending on the Hudson River at New York City, Sam McKinney answered his own question:  Could North America be crossed in a small boat and more importantly, could he do it?
 On a spring morning, he launched his first hand-built motorboat with the name Gander (after his favourite bird, the Canada goose) and proceeded up the Columbia River, then the Snake River for nearly a thousand miles to Lewiston, Idaho.  The Continental Divide prevented him from going further, so he turned around and returned to Portland, his hometown, where he studied the 4,000 miles of waterways still ahead and decided he needed a larger boat.  That winter and spring, he built Gander II, a 24-foot dory with a cabin, two bunks, a galley, small inboard engine, and draft of 18 inches.  A friend, who agreed to join him for a few weeks, towed the boat on a trailer over the Continental Divide to eastern Montana where they launched it in the drought stricken Missouri River and proceeded a hundred miles downstream before getting hopelessly stuck in mud in 12 inches of water.  After a couple of days of failed self-rescue attempts, they abandoned the boat and, hitching a ride back to the friend's truck, drove back to Portland.
Obsessed with answering his question, McKinney built Gander III, a flat bottom shallow-draft (four inches) boat and returned with his friend to the Missouri River during the next spring when the water was deeper.  They motored downriver for six days at which time his friend returned home.  The author continued on, recording his solitary thoughts and emotions in his Log, completing his journey via Chicago, Georgian Bay, and the Hudson River.  As McKinney describes it, his voyage "included 15 US states, 2 Canadian provinces, 11 rivers, 43 lakes, 89 navigation locks, and more than 100 cities and towns, through sandbars and swamps and long days of heat, dust, wind, and rain."  
Interestingly, the content of Sailing Uphill has little to do with sailing, per se, but is likely a metaphor for the author's unconventional life:  an endless series of challenges involving boats and ships, rivers and seas.  Thus, the other half of this book describes periods of the author's life as a mariner, including his exploits as a boy in a rowboat, as a deckhand on a sternwheeler, as crew on several ill-fated sea voyages, and as a romantic stoic who rowed a hundred miles to celebrate his 70th birthday.  The author gratefully acknowledges his seafaring heroes – Slocum, Pidgeon, Moitessier, and others – who fulfilled their dreams and ambitions just as McKinney did throughout a lifetime of nautical adventures.