Reese Palley's Guide to a Long Sailing Life. International Marine/McGraw-Hill, 2004. Hardcover, 258 pages, $28.95 CAD.
At what age should one consider giving up sailing … 60, 70, 80?  According to 84 year-old Reese Palley, the author, you're never too old to go sailing.  In fact, in this book he passionately promotes just the opposite — that sailing keeps you young by stimulating both mind and body.  And Palley should know, having made three transatlantic crossings and a world circumnavigation between the ages of 50 and 70.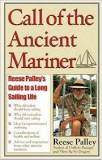 Palley acknowledges that ancient mariners may not be able to perform as quickly and efficiently as they once did as young deck apes.  His suggestions to accommodate a "creaky and cranky" old body include slowing down — anything over 5 knots creates unnecessary strain on both the boat and crew.  Never take your boat where it doesn't want to go such as upwind into a pounding sea — better to wait for a proper weather window.  If expecting heavy weather, reef early preferably from the cockpit and when the going gets rough, heave to or lie ahull while you snuggle in below decks.
Although the book's major premise is that speed and strength are not essential to the enjoyment of sailing, Palley also addresses a broad range of topics such as choosing a sea-worthy boat and acceptable crew, outfitting and provisioning your boat using proven strategies (wheedling, haggling, and mooching) for getting stuff cheap, and 10 classic errors that every sailor wants to avoid.
If you're not too thrilled about spending lengthy periods of time at sea, such as a forty-day passage to the French Marquesas, Palley suggests the rewarding alternatives of day sailing or coastal cruising, options that are becoming increasingly appealing even to him in recent years.  Interspersed throughout the book are convincing excerpts of the joys of sailing into old age from a dozen other ancient mariners who make the sea their home.  Without a doubt, this book will inspire and instruct every sailor who reads it, both young and old alike.