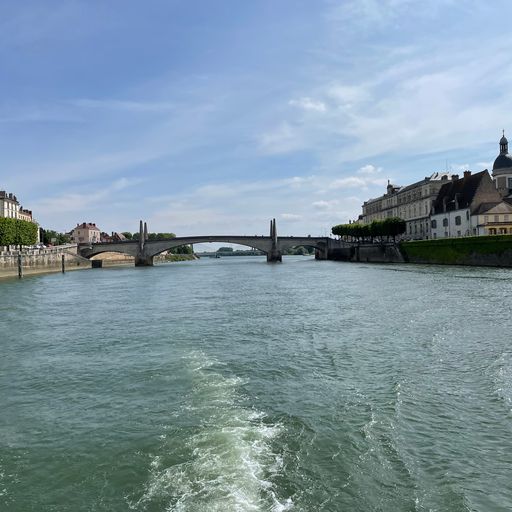 Two types of canal boats are very popular in France: large ones with a captain and crew to accommodate 80 or more passengers and small ones without staff to accommodate 12 or fewer. Four of us rented the latter for a week in May 2023 to explore the Burgundy-Franche-Comté Region southeast of Paris from St-Jean-de-Losne to Branges. Each day history, culture, and nature unfolded along 150 kilometers of scenic rivers and a canal.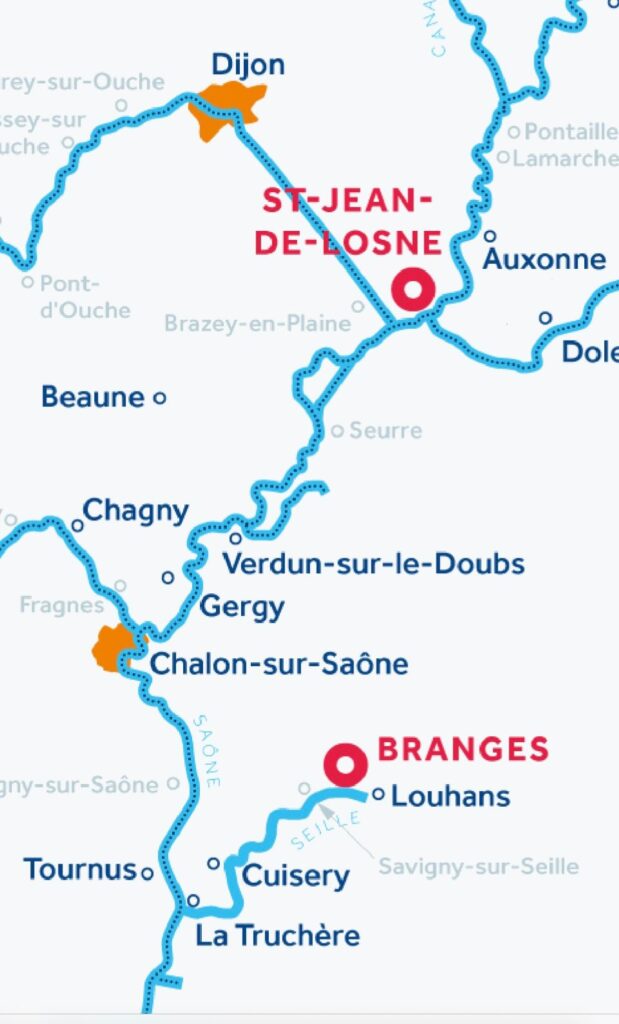 Chart of our cruising area
"Le Boat," an international charter company, has many different size powerboats in a variety of locations across France and other countries. Our selected route allowed a few hours of daily cruising between marinas, using the remainder of each day to explore the picturesque cities and villages. It also had just seven locks to navigate; some routes have ten or more in a single day.
Flying from Calgary to Paris crosses eight time zones. To allow for recovery from jet lag before our boat trip, we spent some time exploring two additional areas of France: Paris and Annecy.
In Paris, we enjoyed a sightseeing bus tour, a champagne cruise on the Seine River, visited the Eiffel Tower, the Louvre and several other museums, plus strolled through charming parks and neighbourhoods.
A three-hour high-speed train ride through scenic (but slightly blurred!) countryside brought us to Annecy, a not-to-be-missed romantic city known as the "Little Venice of the French Alps." Wandering the old town's cobbled streets, we marveled at the magnificent view of Lake Annecy with mountains in the background. We browsed the Musée-Château (Castle Museum) and the Palais de I'îsle (Island Palace), enjoyed a tour-boat cruise on the lake, and sampled local wines at popular canal-side eateries.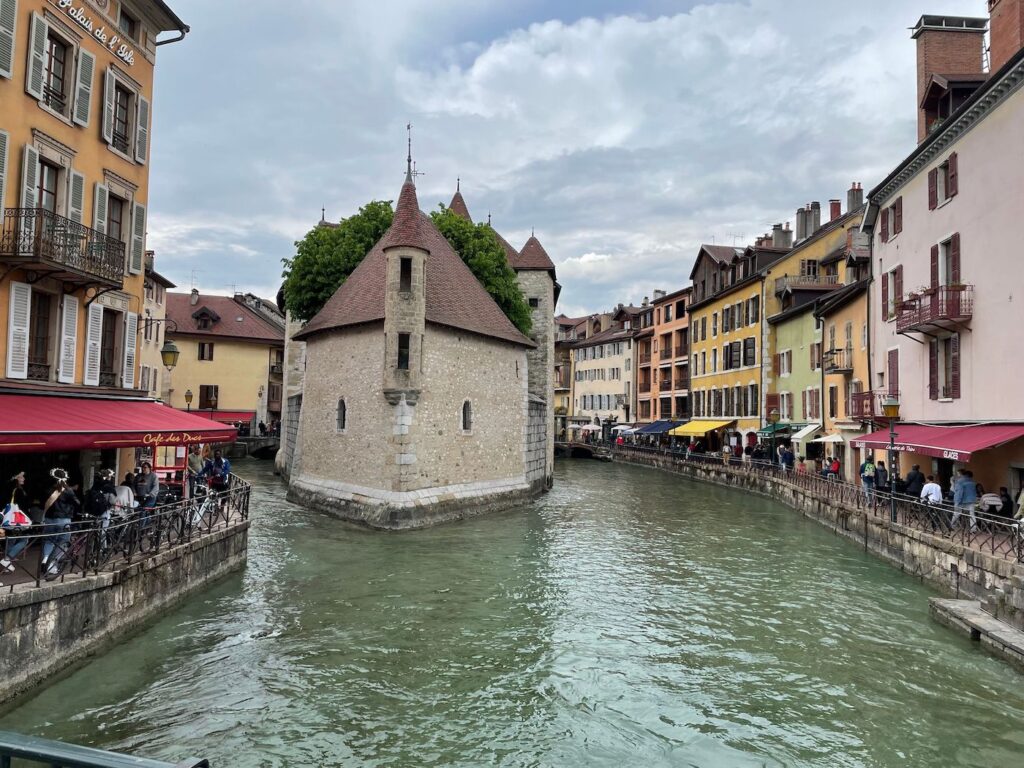 Le Palais de L'îsle with canal-side eateries in Annecy
Saint-Jean-de-Losne
Three train rides later, we arrived at Le Boat's base at St-Jean-de-Losne to prepare for our cruise. Staying two nights at a nearby 18th-century character house, Les Charmilles B&B, gave us ample opportunity to explore the community, shop for groceries, and wash some clothing in a unique outdoor laundromat.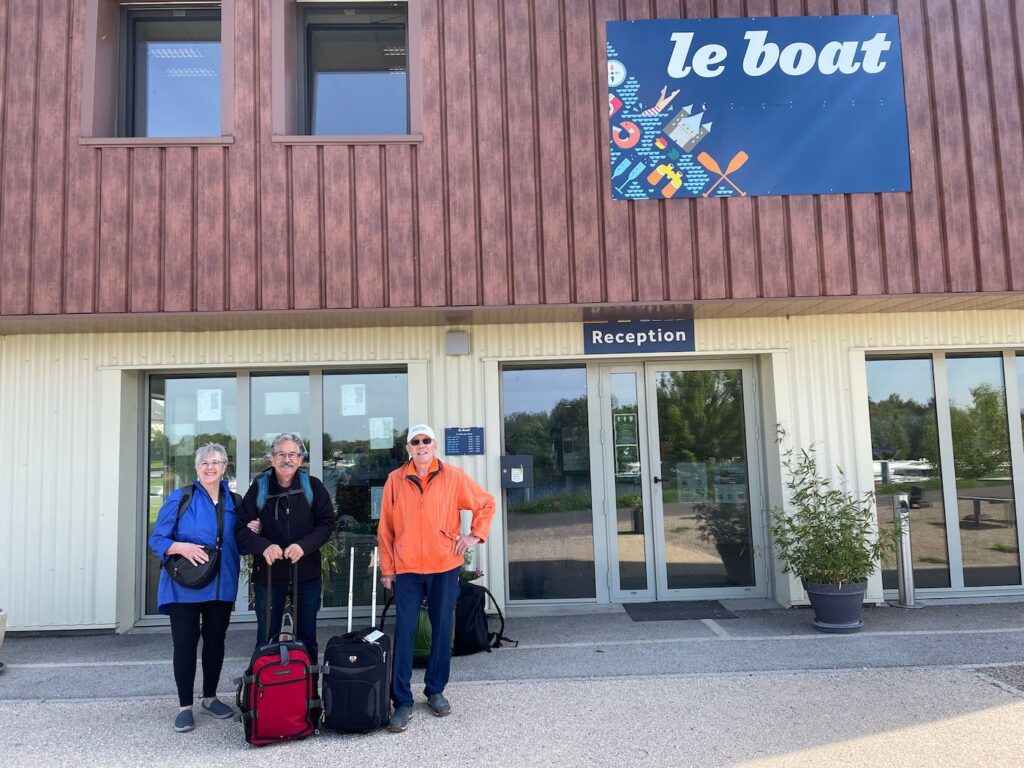 Joan, Barry, and Larry at Le Boat office in Saint-Jean-de-Losne
After arriving at the Le Boat office, we completed some paperwork, watched a safety video, and received a thorough orientation to our 11.5-metre powerboat (Horizon 2), which included a short ride in the harbour to become familiar with the controls, instruments, and stern docking. Barry and Joan, friends from Canada, were as impressed as Sandy and I with the boat's cleanliness and features: two separate bedrooms and bathrooms and useful options such as a microwave, gas BBQ, and large fridge with freezer. As captain, I was especially impressed with the side thrusters, which would be useful for docking and entering locks.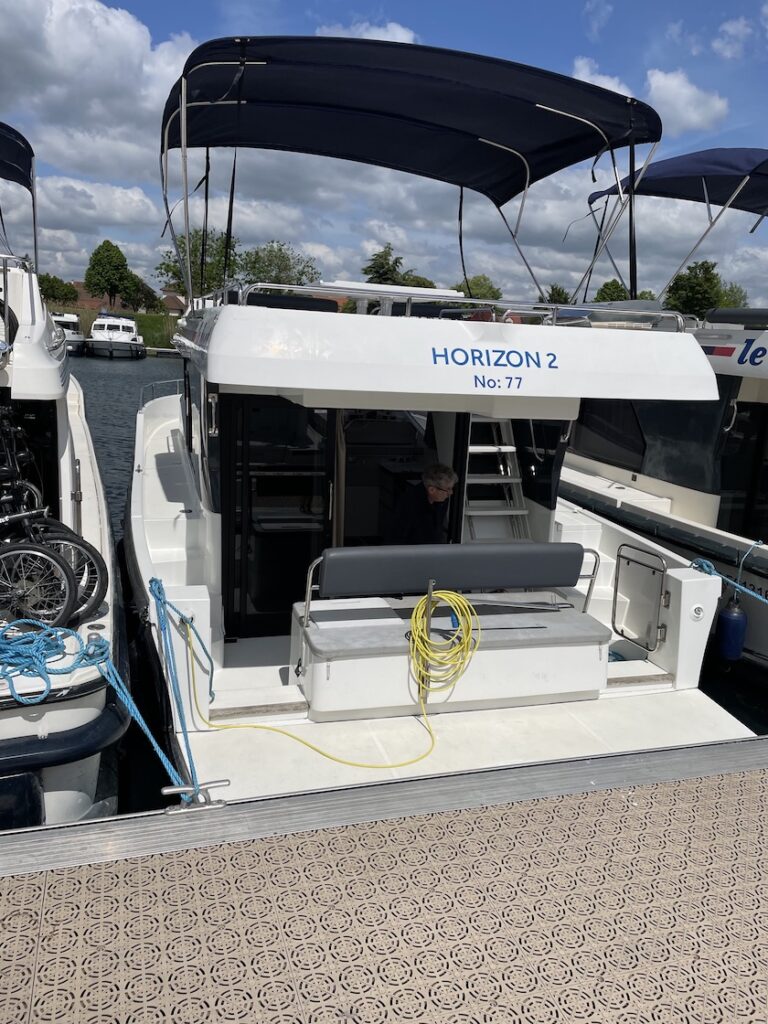 Our boat at home base
By 2 pm, we departed on a two-hour cruise downstream on the Saône River. Shortly after getting underway, we had an opportunity to practice a successful person-overboard drill when Sandy's hat blew into the water. Every day was delightfully sunny and we were seldom out of sight of white swans and cormorants gathered in the water, as cattle and sheep grazed on the grassy riverbanks.
Along the way, we passed through our first canal and first lock. A lock keeper opened and closed the gates and sluices while Barry and I adjusted fore and aft lines attached to bollards, holding us against the wall while we dropped several meters. Shortly thereafter, we arrived at our first night's marina, which offered electricity and fresh water, if needed, to fill our tank (fees ranged from none to 40 Euros per night). We also filled our water bottles for drinking and cooking.
Seurre
A friendly white swan and a family of muskrats welcomed our arrival by meandering through the lily pads beside us while we had dinner topside.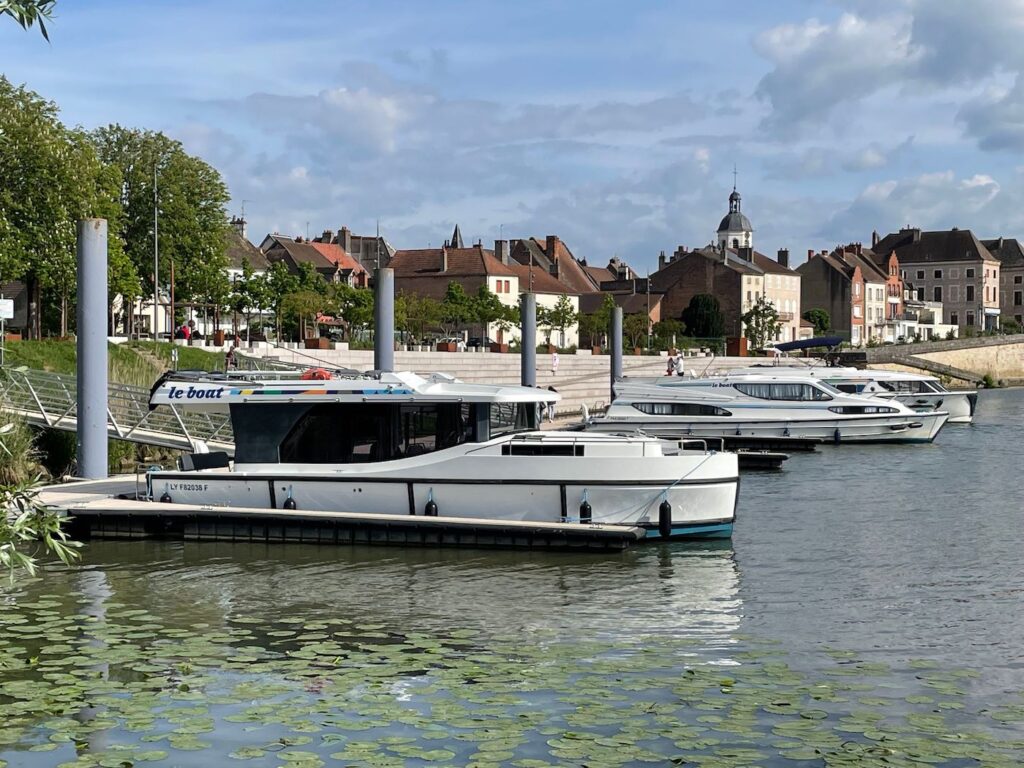 Stern-tied at Seurre Marina
A relaxing stroll along the seawall brought us to the Tourist Office where we paid for our overnight stay and picked up a town map to explore a few attractions, including a bakery and wine shop. A cacophony of birds serenaded us at nightfall. Church bells chiming in the distance reminded us we were elsewhere.
The next day, after a leisurely breakfast aboard of omelets and fresh croissants, we were off to our next destination two hours downstream. We passed through our second lock with another boat before reaching the Doubs River and the marina beside the village of Verdun-sur-le-Doubs.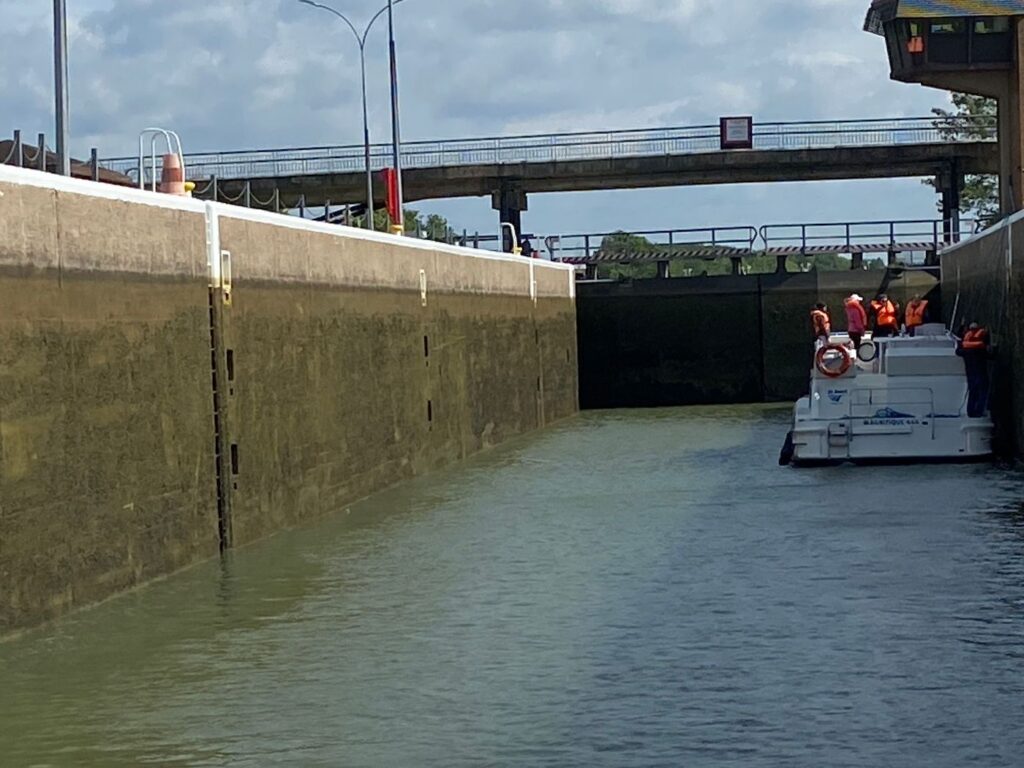 Another boat in a lock on the Saône River
Verdun-sur-le-Doubs
The strong current at the marina provided a challenge for many boaters attempting to stern tie. It took me two tries to figure out how far to go upstream to compensate for the current. Using the downstream side thrusters on the third try, I eased straight back to the dock. Friendly boaters from Austria and Germany, already moored, were topside enjoying happy hour while shouting suggestions to those of us struggling to dock.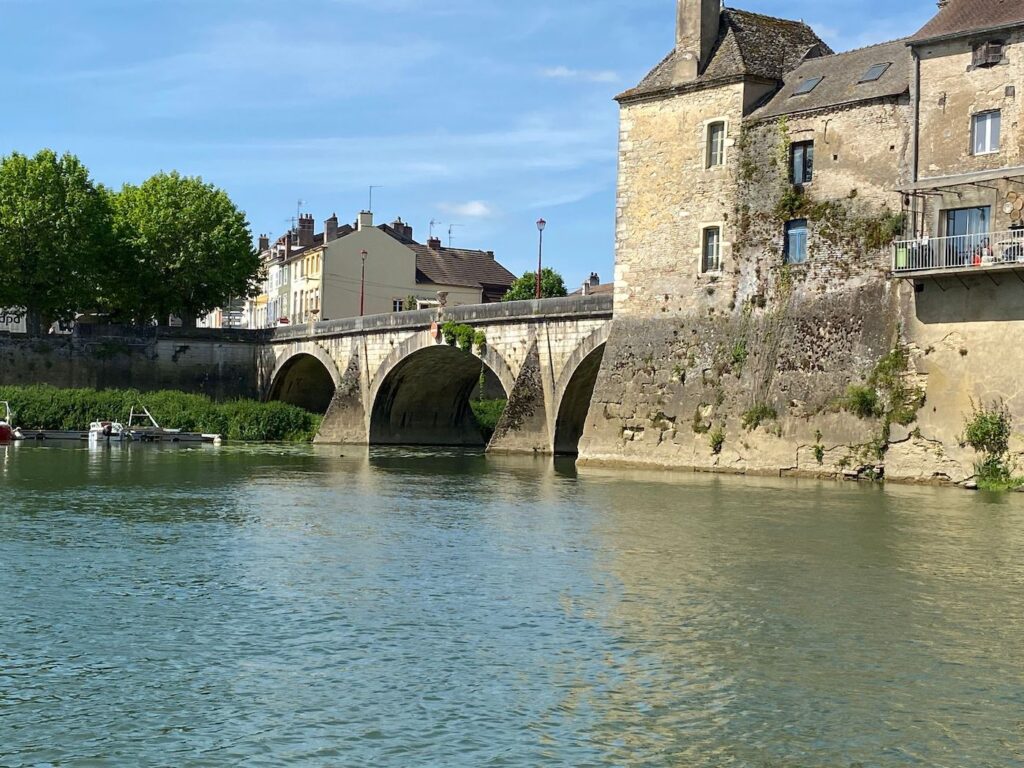 Historic St. Jean bridge near the marina at Verdun-sur-le-Doubs
After a walking tour (following yellow fish painted on the sidewalk) to view a variety of historic sites, we enjoyed quiche dinner topside with fresh baguettes and crème brûlée from a local bakeshop, supporting our recent addiction to French food (and wine)!
Chalon-sur-Saône
A few hours downstream, we moored at the marina and explored the largest city along our route. We took advantage of the extensive patio dining and wandered the city centre with its beautiful architectural heritage, including half-timbered houses and the magnificent Saint-Vincent Cathedral with its Neo-Gothic façade from the 19th Century.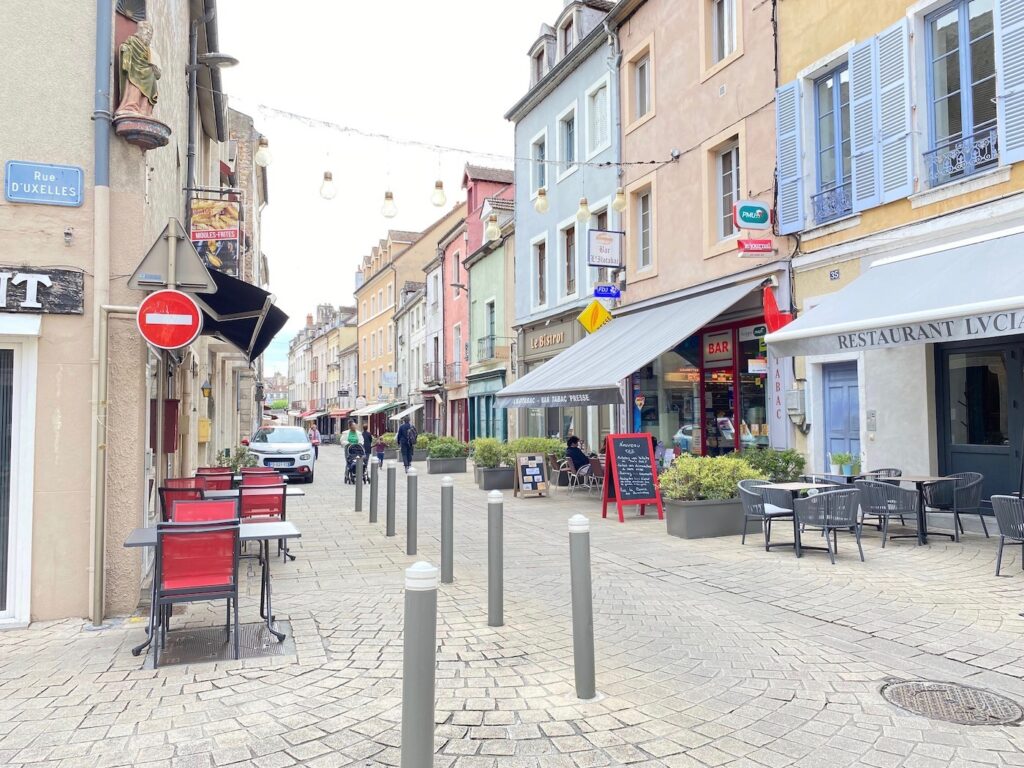 Restaurant Row on Strasbourg Street, Chalon-sur-Saône
This city is the birthplace of the inventor of photography, Nicéphore Niépce, and has a museum dedicated to its history. A major supermarket near the marina was available to restock our supplies.
Tournas
Numerous bicyclists and anglers beside the river provided opportunities for lots of "bonjours" and waving during this three-hour stretch. A short walk from the marina lead us to the Musée du Vélo (Bike Museum) with a fascinating collection of over 200 bicycles, including the first one invented in 1818.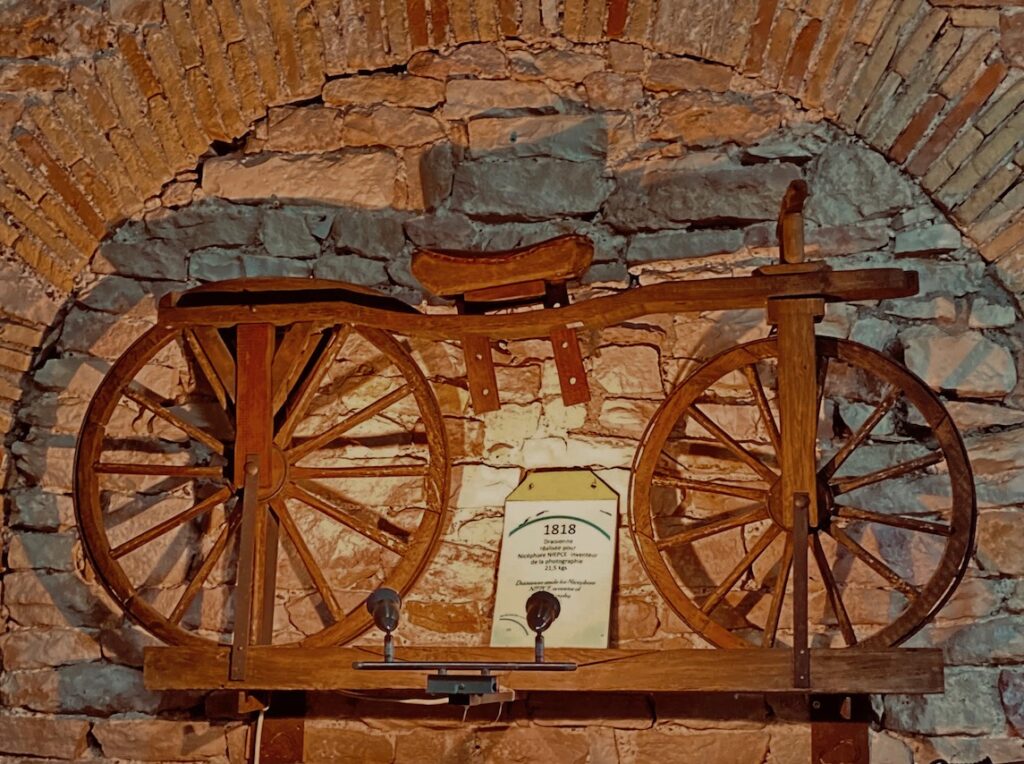 First bicycle invented in 1818
After visiting this unique museum, we attended an organ concert at the stunning Abbaye St. Philibert followed by a delicious escargot dinner at a nearby patio restaurant. We had originally planned our next destination to be a couple of hours away but some fellow boaters told us about a famous livestock market on Mondays in Louhans, which is just beyond our destination Le Boat base in Branges. We decided not to miss this market so we cruised five hours upstream on the narrow meandering Seille River through lush green countryside. Cuckoos and kingfishers sounded our passage while grey herons flew hither and yon. Nature at its' finest.
This segment involved three locks, two of which did not have lock keepers, requiring us to manually open, close, and fill the locks. Fortunately, we took note of how the previous lock keepers managed the gates and sluices with wheels and levers and simply repeated their actions.
Louhans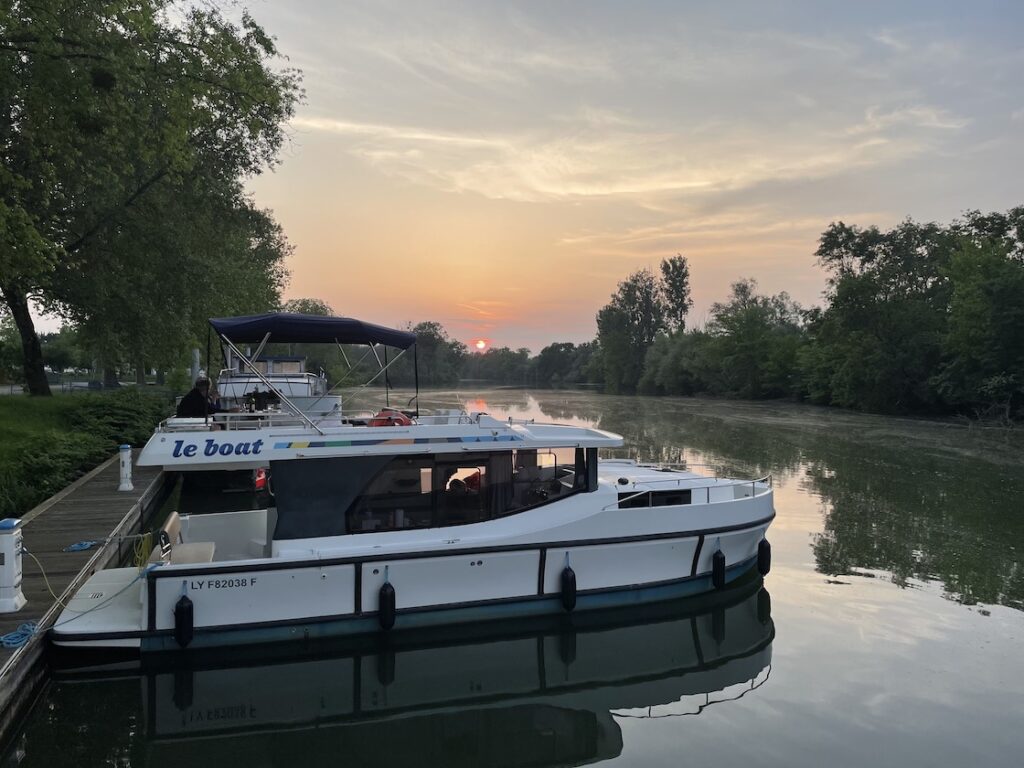 Sunday sunset in Louhans
Monday morning after breakfast, we followed shoppers with their tote bags to the renowned market: aisles of vendors selling live chickens, rabbits, goats, turkeys, guinea pigs, and dogs of various breeds … an ongoing tradition since medieval times. Next, we walked the longest arcaded street in France with 157 arches, some dating back to the 15th century. Here, stores of every description move their wares out into the street for the market … a shopper's paradise.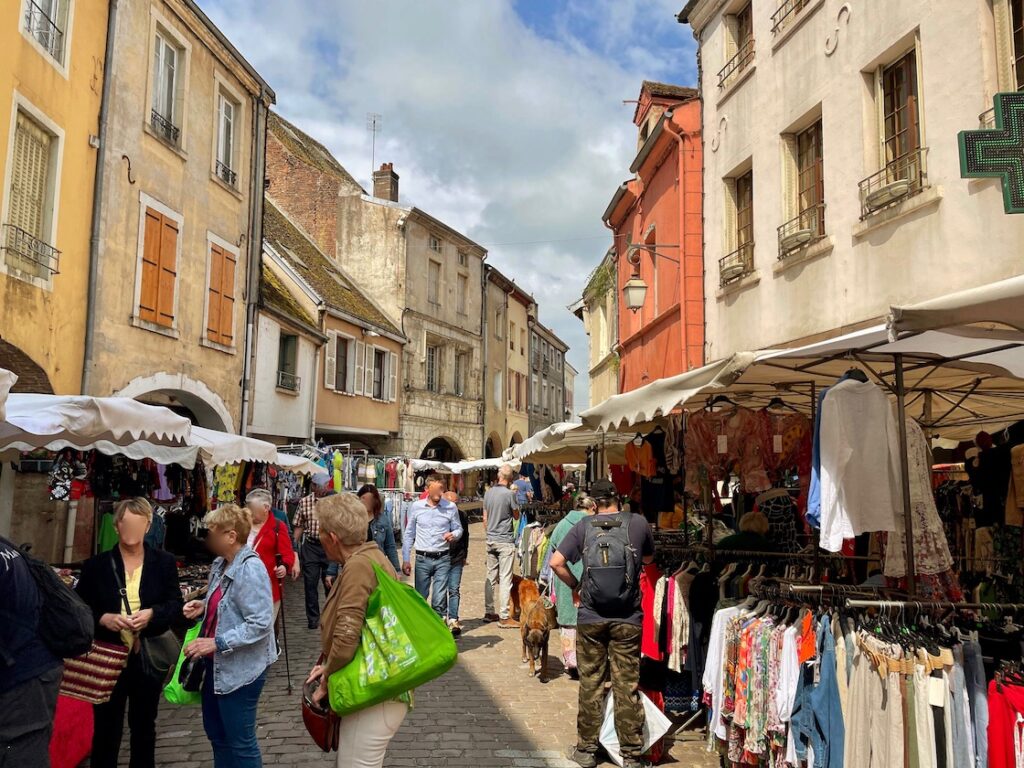 Monday market in Louhans
Two nights in Louhans allowed us to explore the city the next day without the busyness of shoppers at the market.
Branges
A short distance downstream toward Branges, we approached a lock we had already passed through. This time Barry helped an appreciative lock keeper with our passage. What had been somewhat intimidating at the beginning of our cruise was now becoming routine. Joan and Sandy tended the docking lines as our boat was lowered to match the downstream level. Ladders recessed in the lock walls allowed Barry to get back on board before departing.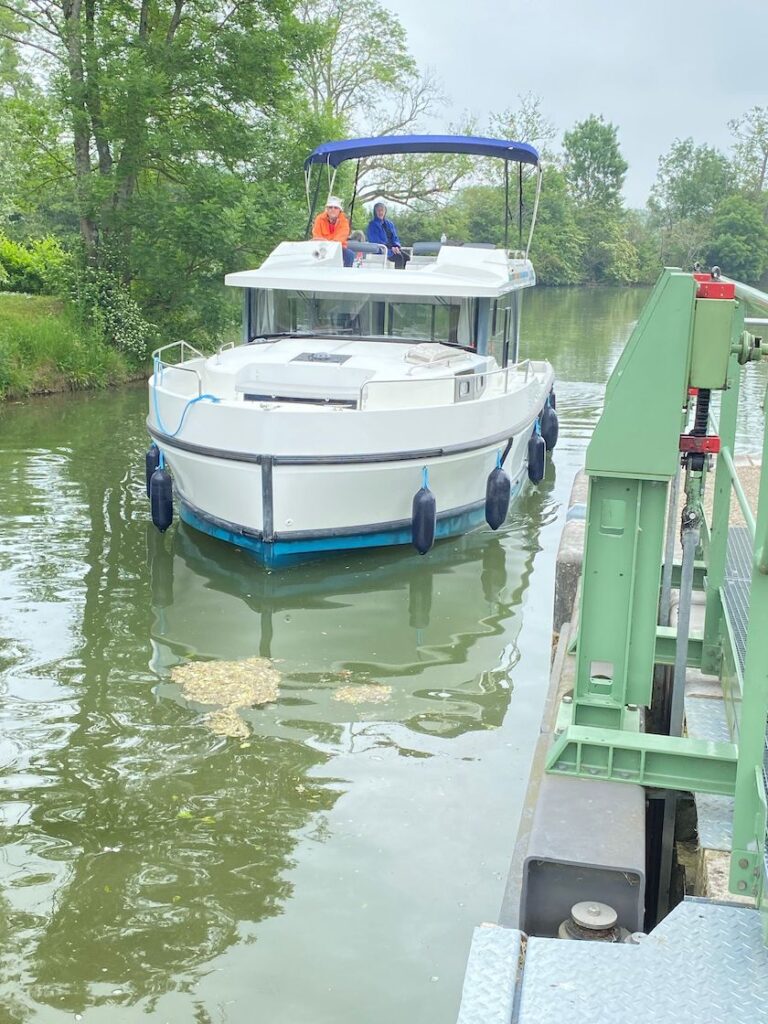 Entering lock near Branges
That afternoon back at the Le Boat base, we walked through the village and discovered its impressive church and cemetery. For our last meal topside on the boat, we enjoyed a charcuterie board of leftover cheeses, olives, vegetables, baguettes … and wine.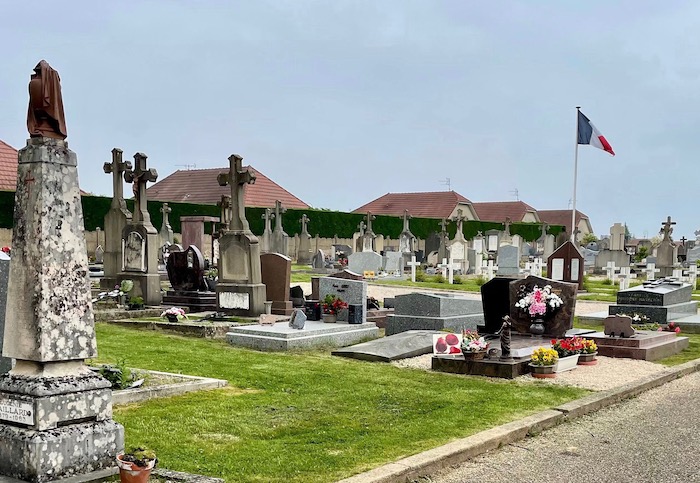 Monuments in Branges' Cemetery
The next morning, we cleaned the boat and packed up for our noon inspection, which was completed within an hour to everyone's satisfaction.
A short taxi ride back to Louhans had us checking into our spacious rooms at Moulin de Bourgchateau, a remodeled grain mill dating back to 1788. In the afternoon we walked into town to do some last-minute shopping for souvenirs. An exquisite dinner at the hotel's restaurant overlooking a lazy river topped off what we all agreed was one of our most memorable holidays ever … both on and off the water.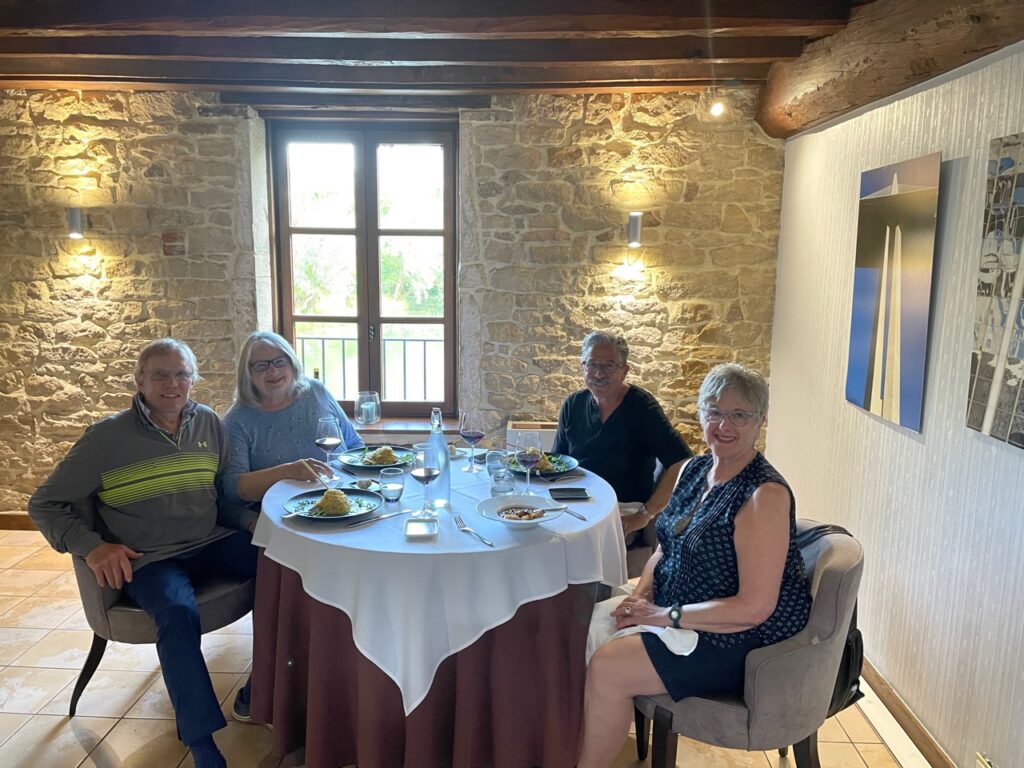 Larry, Sandy, Barry, and Joan dining at Hotel Restaurant in Louhans
Trains and planes over the next two days brought us back home to reality with definite plans to arrange another canal boat cruise in the very near future.
If you plan to take this cruise …
Purchase a prepaid SIM-Card for France.
Bring adapters for converting 220 volts to 110 volts for electrical appliances.
Bring wide-brim hats (with chin cords) for sun protection.
Indulge yourself with a couple of weeks in Paris and Annecy to capture the essence of France and reduce jet lag before your cruise.
Practice "Bonjour," "Merci," and other French phrases … much appreciated.