Author: Sam McKinney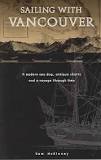 Publisher: Touch Wood Editions Ltd. Victoria, BC, Canada
Copyright: 2004
In 1792, two square-rigged sailing ships from England, with a complement of 184 men and several small working boats, arrived in the uncharted waters of the Pacific Northwest.  George Vancouver, commander of the lead ship HMS Discovery, was on a mission to determine whether a water passage existed over the top of North America, and to chart and lay claim to the northwest coast, including what is now known as the Strait of Juan de Fuca, Puget Sound, the Strait of Georgia, and Queen Charlotte Strait.
Roughly 200 years later, author Sam McKinney, an adventurous septuagenarian informed in nautical history, bought a hand-built sailboat and metaphorically tagged along in the wake of Vancouver's vessels as they explored the unknown inlets, fjords, and islands that make up what Vancouver called the "Mediterranean ocean." Based on the personal journals of Vancouver and his officers, the author vividly describes the hardships, disappointments, and discoveries that the English explorers encountered during their four-month voyage. While some of the landscapes and coastal villages of Aboriginal peoples have obviously changed, the seascapes, vagaries of weather, and the recurring tides and currents are much the same as they were then.
History lovers, especially those with an interest in boating, will enjoy comparing the similarities and differences between these two voyages taken two centuries apart. The Afterward section is particularly informative, referencing over 100 place names many of which immortalize early maritime explorers such as Vancouver, who has both the city and the island bearing his name.