Dream Yacht Charter Base on Scrub Island
In early February 2019, a Polar Vortex rolled across a wide swath of Canada and the northern U.S., bringing record-shattering low temperatures, sleet, snow, and high winds that toppled trees and power lines, creating power outages and traffic snarls.
To borrow a line from Monty Python … "And now for something completely different."
It's 80 degrees … just another sunshiny day in the British Virgin Islands. We're lounging on a sailboat moored in clear turquoise water with rum drinks in hand. A Tropical Vortex, if there is such a thing, would more appropriately describe the weather conditions during our week of charter sailing … warm breezes, warm water, and warm sand … all very tropical.
About 20 years ago, my wife Sandy and I chartered a sailboat in the BVI's during the summer. My article (see Info) describes the advantages of chartering during the summer months … less expensive, less crowded, and better weather, except for the occasional hurricane! Perhaps one slight disadvantage is that you are leaving someplace warm for someplace warm!
A winter escape was one reason for visiting the enchanting islands of Virgin Gorda, Cooper, Jost Van Dyke, and Tortola, four of more than 50 nestled in the Caribbean east of Puerto Rico. Windward islands block the Atlantic swells, providing ideal sailing conditions in the Sir Francis Drake Channel, which extends the full length of the primary sailing area. We were also interested in seeing how the island's ambiance has changed, if any, over the past 20 years. Our sailing companions, Barry and Joan from British Columbia, Canada had never been to the BVI's so we were looking forward to their reactions to this world-renowned sailing destination.
My intent in this article is to provide TIPS for sailors contemplating a bareboat charter in the BVI's. For starters, getting there from Canada required three flights, including an all-nighter from Houston, Texas to San Juan, Puerto Rico, and finally to our destination of Beef Island in the BVI's.
TIP 1: If travel time is lengthy, consider staying in a hotel near the Charter Base to recover from sleep deprivation. And do make a reservation, as BVI hotels and resorts are often fully booked weeks in advance. We had reserved one night at Scrub Island Resort, located adjacent to the marina where our boat was based, and it paid dividends. What a fabulous place to unwind and begin adjusting to island life … a villa with ocean views, pools and beaches, two excellent restaurants (Cardamom & Co and Donovan's Reef) with superb Caribbean cuisine, outstanding service and tropical vibes.
Scrub Island Resort
I spoke with a fellow sailor at the swim-up bar about the exotic drink that he had just ordered. He said it was a Bushwacker, "The best in the islands" according to his research, and he sampled more than one at every island! (See Info for their recipe of this coffee-flavored cocktail) The Resort also provided a shuttle from the airport to the nearby ferry terminal for the free 10-minute boat ride to Scrub Island, and then carted our luggage to and from the villa. They even provided complimentary cocktails upon our arrival. The entire experience made us feel like royalty.
TIP 2: Ensure that your luggage is booked through to the BVI's. Barry and Joan had booked their luggage through to Puerto Rico, but they didn't have enough time to transfer it to the plane going to the BVI's. Long story short: Barry made multiple trips to Beef Island Airport from the Resort to track down his bag, which finally arrived two days later.
TIP 3: Ensure that your flights include layovers of at least 2 hours. Line-ups at security checkpoints and Customs are much longer and slower than they were 20 years ago. On their return flight to San Juan, Barry and Joan's layover was less than 1 hour, not long enough to make their connecting flight to Houston. Another long story short: they spent an extra two days returning to Canada.
TIP 4: If you plan to snorkel, purchase a Dive Map at the Base to locate the best snorkeling areas and if you're nearsighted, consider bringing a mask with prescription lenses to ensure your underwater experience is crystal clear. Most charter companies provide fins and masks of various sizes, and snorkels. Some snorkeling areas require access from the dinghy or from shore but our two favorites, Diamond Reef at Marina Cay and Monkey Point at Guana Island, had balls for mooring, allowing access at water level off the back of our yacht, which was more comfortable than hauling ourselves from the water into a 2-foot-high dinghy.
TIP 5: Preorder ALL your provisions at least a week in advance by Internet and schedule their arrival at the boat about an hour or so after your boarding time. We had pre-ordered nonperishables from RiteWay, one of the major grocery stores in Road Town on Tortola Island, but chose to shop for perishables (meat, milk, pastry, fruit) from the same store upon our arrival. Unfortunately, this excursion took the better part of an afternoon and a pricy cab ride to ensure everything arrived at the same time.
TIP 6: Choose a reliable, well-established charter company and a boat that meets your needs. There are numerous charter companies in the BVI's, such as The Moorings and Sunsail, which offer bareboats to qualified skippers, based on their boating resumes. After perusing websites and reviews of various companies, we selected Dream Yacht Charter (DYC), billed as one of the world's largest. We wanted a catamaran, versus a monohull, for stability, roominess, and privacy … four bedrooms and four heads. We also wanted a water-maker, which would eliminate the need to tie up at docks during our week and pay for replenishing fresh water.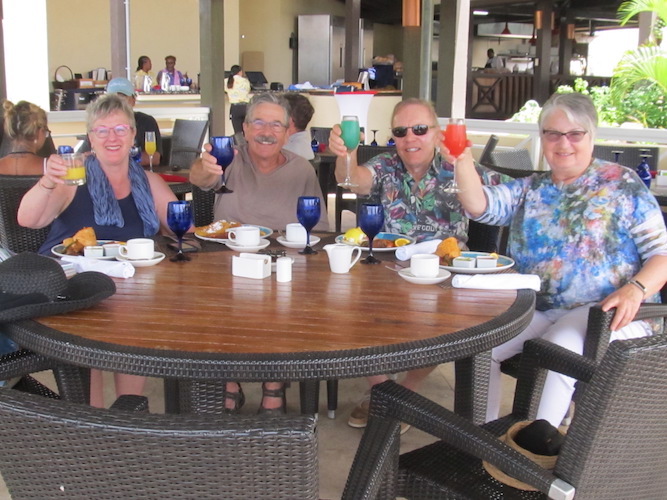 Checking out of our villa at noon, we completed some paperwork in the DYC office, boarded our nearly new 40' Bali yacht, stored our provisions, and received a thorough boat briefing, so that we were ready to depart after breakfast the next morning. Teka, our briefing lady, was cheerful and knowledgeable, explaining various features such as the electric winch, chart plotter, anchor windless, water maker, and the inverter, which converted 12 volt DC battery power to 110 volt AC. Technicians even moved our yacht from the slip to open water upon departure.
On our first day, we motor-sailed for a couple of hours to check out our equipment and to give everyone some practice in turning around and stopping the boat in the event the captain fell overboard! Everything worked as expected on our sea trial. In early afternoon, we tied off to a ball just a half-mile from the DYC Marina in one of the best snorkeling areas in the islands – Diamond Reef. For 2 hours, we cavorted with sea turtles and garden eels among coral heads chock full of colorful Parrotfish, Lionfish, Butterflyfish, and many more identified on our dive map. Brown pelicans dive-bombed for fish along the shore.
Later that day after taking the dinghy to a nearby dock on Marina Cay, Barry caught the ferry to pick up his bag while I fired up the BBQ to cook some chicken and veggies flavored with locally-made Caribbean seasoning, while the gals made salads and congratulatory drinks, which were definitely in order when Barry returned to the boat with his bag!
TIP 7: Consider renting a car to explore Virgin Gorda Island. Nearly everyone who charters in the BVI's visits The Baths: a surreal constellation of humongous boulders stacked precariously on a sandy beach at the southern tip of Virgin Gorda Island. Since dinghies are not allowed on the beach, boaters must choose to swim from their yacht or from their anchored dinghy, neither of which appealed to our crew. And Virgin Gorda is more than just The Baths! Consequently, we chose to tour the entire island by car.
We had previously emailed L & S Jeep Rental in Spanish Town and arranged for a vehicle to be delivered to the Leverick Bay Hotel in North Sound at 11 am. Departing early from our mooring at Marina Cay, we tacked northeast (prevailing winds are reliably from the east) a couple of hours past the Dog Islands (another popular snorkeling site) to the well-protected North Sound, moored to a ball in Leverick Bay by 10 am, and took the dinghy over to the hotel to pick up our rental car.
Leverick Bay, Virgin Gorda Island
A half-hour later with the paperwork completed, we were off to explore this enchanting island, only 10 miles long and 1 mile wide. In the BVI's, they drive on the left side of the road so the designated driver must focus on the road rather than the cliffside views, and also abstain from imbibing. Barry suggested I drive!
It took a leisurely hour to get to the south end of the island, stopping at several cliffside overlooks to observe pristine beaches and crashing surf on the Atlantic side of the island. We had a light lunch at the open-air Top of The Baths Restaurant while marveling at the outstanding views of Sir Francis Drake Channel. We then explored the labyrinthine paths through the natural granite sculptures on the beach below, hearing more "Wows" than I could count.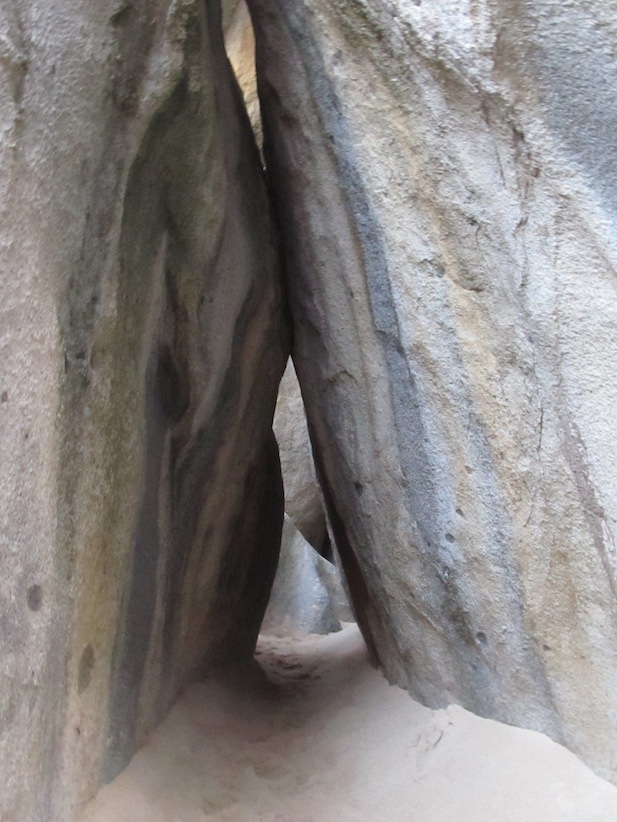 Returning through Spanish Town, we browsed through quaint shops and outdoor markets, then celebrated Joan's birthday at CocoMaya, a popular beachside Asian fusion restaurant. By dusk, after returning the car to the Leverick Bay Hotel, we were cozied up in Jumbies Beach Bar beside the marina, watching a live band and Moko Jumbie dancers while a glowing red sunset marked the end of a memorable day.
Joan said later that this road trip was the highlight of her week. Everyone we met was so responsive and accommodating … once again, we felt like honored guests.
TIP 8: If you plan to arrive at a popular destination after 2 pm, consider reserving a mooring ball. In this regard, not much has changed in the BVI's over 20 years … even then, during the summer with fewer boaters, we had to arrive before 2 pm to ensure a ball was available. The key is to get underway early enough to arrive at your intended destination by noon or shortly thereafter.
Another option in recent years is to reserve a ball through BoatyBall.Com, which has distinctively colored orange balls at three locations: Leverick Bay, Cooper Island, and Anegada Island. Since we always arrived at our destination by noon, we never had a problem finding a vacant ball.
TIP 9: When you tie to a ball, pick up the loop and run two separate dock lines through it, one from each front cleat, then back to the cleat. Teka mentioned this "A to A, B to B" technique but we initially just ran a dock line from one cleat through the loop to the other cleat. We learned after a couple of nights that the loop can slip up the dock line, allowing the metal ball to bang against the hull, waking up the soundest of sleepers. Beginning our third night out, we used two lines with no more wake up calls!
TIP 10: Rent a Hot Spot or purchase coverage for your cell phone use for the duration of your charter. Access to Internet and phone service (Skype or cell) is important to reserve mooring balls, make restaurant reservations, advise marinas of your arrival, or contact your Base in the event you have issues with the yacht. The VHF (Ch. 16) may or may not work depending on your distance from the receiving VHF.
TIP 11: Make sure you either have a base tan or you lather on lots of sunscreen. The sun is hot in the BVI's, even in the winter. On our third day, we broad-reached for a few hours southwest from North Sound to Cooper Island. Although our yacht had a Bimini over the helm, the early morning sun managed to create some serious sunburn on Barry's legs. For a few days after, he switched from shorts to long pants whenever we were in direct sunlight, which was pretty much every day of our charter. We also snorkeled in t-shirts.
The Cooper Island Beach Club is almost as popular as The Baths for visiting sailors. Twenty years ago this facility, overlooking the sandy beach of Manchioneel Bay, was quaint and cozy with a thatched roof.
Cooper Island moorage
Today, it has a modern terrace-style restaurant with a wooden boardwalk leading to a rum bar, coffee shop, and boutique selling island clothing, maps, and souvenirs. What hasn't changed is the outstanding Bushwackers, cuisine, and tropical ambience that continue to make it one of Sandy's favorite destinations in the BVIs. Together with excellent snorkeling at Cistern Point on the south end of the Bay, we all wanted to stay longer, but the "island spirit" and a 20-knot easterly the next morning moved us to Jost Van Dyke.
TIP 12: Arrive at Jost Van Dyke on a weekday if you want to see the legendary Foxy perform at his Bar in Great Harbor. This elderly, humorous entertainer is still attracting throngs of visitors, just as he did 20 years ago! One of Foxy's relatives told us that he still performs, but only on weekdays. Unfortunately, we arrived on a Sunday so instead of listening to songs, stories, and poems from a legend, we relaxed in his beach hammocks, visited his boutique and restaurant, and picked up some provisions at a grocery store and a bakery.
Dinghy dock at Foxy's
Jost Van Dyke is known as the "Party Island" for good reason … funky beach bars are scattered along the shore in each of its three main harbors.
The next morning, we anchored just east of Jost Van Dyke at Sandy Spit to allow Sandy a barefoot stroll on a small patch of warm white sand on her namesake spit. After breakfast, we set sail on a beam reach for Cane Garden Bay on Tortola, the largest island in the BVI's. This Bay, ringed with a white sand beach below a mountain of lush green trees, has been described as the quintessential anchorage in the Caribbean. In addition to various watersports, such as sea-dooing, windsurfing and stand-up paddle boarding, a bevy of beach bars and fine restaurants beckon thirsty and hungry sailors. Our meal at Pusser's Restaurant, overlooking the anchorage, was outstanding as was the local musician who played and sang Caribbean folk songs and reggae.
On our last full day, we anchored in nearby Brewers Bay for a hike to a seaside cave and the remnants of a windmill; then set sail for Guana Island for some excellent snorkelling at Monkey Point where day balls allowed access to the water from our yacht.
Sandy & Joan in Brewer's Bay, Tortola Island
By early afternoon, we were tied to a ball at nearby White Bay for our last night out. Guana is a private island so we wined and dined aboard, sharing impressions of our trip. The ambiance of the BVI's hasn't really changed all that much over the past 20 years: Each island still has its own unique character, whether it's chickens and goats on the road or 5-star resorts and mega-yachts. The winds still provide great sailing, manageable for novice sailors and challenging enough for veterans. The seas are still warm, tranquil, and gorgeous shades of blue. The Islanders are still super friendly and welcoming to tourists. And the spectacular seascapes and landscapes remain, just as they always were and always will.
The next morning, we motored the short distance to Marina Cay fuel dock to top off our tank. Shortly after calling Dream Yacht Charter on the VHF, a technician arrived to return our yacht to the marina. Within a couple of hours, we were on the ferry to Beef Island Airport and our return flights with precious memories of a wonderful holiday.
TIP 13: Book at least one night at a hotel AFTER your charter to wind down from an exhilarating week. Leaving a tropical paradise to return to a Polar Vortex was somewhat unsettling. Going back to someplace warm is preferable, but that requires a summer sail. We all agreed that we should have booked one more night at Scrub Island Resort to wind down and have another Bushwacker or two. Would I recommend either winter or summer sailing in the BVI's? It doesn't really matter … just re-read these tips before you go and you'll have a great time in this little piece of paradise.
INFO:
Summer Sailing in the BVI's www.sailingaway.ca/summer-sailing-in-the-bvis
Dream Yacht Charter www.dreamyachtcharter.com
Scrub Island Resort www.scrubisland.com
RiteWay Supermarket www.rtwbvi.com
L & S Jeep Rental www.landsrentals.com
CocoMaya Restaurant www.cocomayarestaurant.com
Jumbies Beach Bar www.leverickbayvg.com/jumbies-beach-bar-the-cove
Reserve a Ball www.boatyball.com
Cooper Island Beach Club https://cooperislandbeachclub.com
Pussers Restaurant www.pussers.com/our-locations/pussers-at-myetts/
Scrub Island Resort's Bushwacker Recipe
2 oz. Baileys Irish Cream
1.5 oz. Kahlua
1 oz. Crème de Cocao
1 oz. Amaretto
½ oz. Vodka
½ oz. Rum
1 oz. Coconut Cream
1 cup Ice
Blend. Add chocolate syrup in a circular motion inside glass, then pour into glass and add nutmeg and a cherry on top; whip cream optional. Wickedly delicious!