"Why sail long distances to find the perfect spot when you've got paradise right here?"
That's what "Dort" from Fort Myers Yacht Charters told us when we asked about sailing destinations on Florida's west coast. She was referring to a sailing area 60 miles long between Fort Myers and Punta Gorda.
We were getting ready for a 6-day bareboat charter on a 30-foot C & C.  "We" includes myself as skipper, Sandy as first mate, and Ron and Linda from North Carolina, who are long-time friends but first-time sailors. Sandy and I live in Canada and usually arrange a sailing trip to a warm locale during the winter months.  Last year, we had chartered out of St. Petersburg. On that trip, we wanted to get as far south as Fort Myers within a week but a tornado warning and heavy weather in Tampa Bay prevented us from doing so. We had gotten to the "edge of paradise," Boca Grande on Gasparilla Island, before turning around. This time, in March 1992, we were starting to the south of our sailing area and heading north, with Boca Grande as our turn-around point. In between were lots of characters and experiences to add to our sailing memoirs!
First off, there was Jacques, a friendly and helpful employee of Fort Myers' Yacht Charters who took us through the boat's systems, inventory, and then covered the chart of the sailing area in great detail. Three hours after we arrived, we knew our boat "Why Not" inside and out and all the potential ports of call, including some secluded bays for anchoring overnight. With four people on a 30-footer, we only had one rule — hot showers for the crew at least every other day! We decided to alternate anchoring and docking.
CAST OFF
To ensure that we got safely underway, Jacques escorted us through the narrow but well marked channel from the marina to the Intracoastal waterway where we said adieu. Actually, Jacques said "adieu," we said "good by"! He jumped on an escort boat while we proceeded on a brief shakedown cruise in the Gulf of Mexico, off Fort Myers' Beach.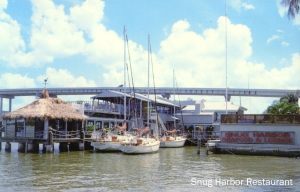 Afterwards, we entered Matanzas Pass and docked at Snug Harbor Restaurant for an early dinner. As we ate, we noticed a local fisherman with a dog and pet raccoon in his fishing boat, and two guys in a Volkswagon Beetle cruising down the waterway. No kidding! And this was only our first day out!
March is the busiest month for tourists in Florida, and recreational boating is no exception. Most anchorages get crowded by early afternoon. As we scanned the anchorage, we spotted a vacant mooring buoy and decided to use it. Normally, this is a simple procedure: turn into the wind, stop the boat at the buoy, and tie off. Oops, I forgot about the current, which quickly carried us over the buoy, allowing the line to get wrapped around our winged keel. After about 15 minutes, we noticed our boat was the only one pointing across the wind!
While deciding on our next move, Rusty, a neighboring boater, rowed over to tell us the buoy line was tied to a two-foot high concrete cone which had punctured more than one hull when the tide went out. Our depth sounder was reading 7 feet at high tide. With a 2-foot tidal range and our 4-foot draft, we estimated the concrete cone at low tide would be about one foot into the forward V-berth! Rusty volunteered to dive under to untangle the line. Who was I to argue? Once free, we moved away to drop anchor. The lesson learned? Never tie off to someone else's mooring buoy unless you know it is safe and secure (and have permission). Rusty said the owner used it occasionally to tie off his shallow-draft fishing boat.
Tom, a friend of Rusty's and a fellow boater, joined us for a round of drinks and some boater talk. Apparently, Tom was once an electrical engineer up north who gave up the rat race a few years ago, bought a boat and sailed down to paradise. His advice to us for our week: "If you sail more than five hours a day, it's going to feel like work. Stop along the way and smell the flowers."
West coast sailing options
The next morning, in dead calm conditions, we motored into the Gulf of Mexico up the west side of Sanibel and Captiva Islands. Finally, the wind picked up enough to allow us a brief sail to our destination, the South Seas Plantation Marina. One of the nice features of Florida's west coast is the option of sailing the Gulf of Mexico or the Intracoastal Waterway (ICW). In favorable weather, you can traverse one of several passes into the Gulf. In high winds and rough seas, such as we had last year, you can choose a more sheltered sail in the ICW. This waterway is a dredged channel, about 12 feet deep and sometimes as narrow as 100 feet across, which runs between bays and harbors up most of the west coast. Although the waterway is well marked with numbered daybeacons, it's prudent to keep track of your location, especially if you intend to leave the waterway. Occasionally, the water looks deep, until you notice blue herons standing up to their knees just a few feet outside the channel!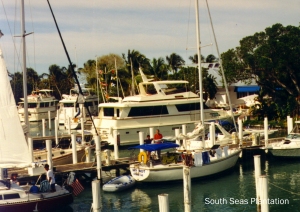 In preparation for our trip, I wrote to five Port Captains in the Fort Myers' area. These folks are members of the U. S. Power Squadron who have volunteered to provide information to visiting sailors. Three Captains responded to my request for information. One even sent along a chart of the area, marking all of his favorite restaurants, marinas, and anchorages. His favorite site, which was also mentioned by the other two Captains, was the South Seas Plantation, a resort on Captiva Island about 25 miles from Fort Myers. Reservations are recommended, as this is a very popular marina in spite of the $2-per-foot nightly docking fee. This fee allows you to use the resort's swimming pool, jacuzzi, and showers, as well as shore power and water. Golf was extra! Don't plan on stopping here if you're intimidated by wealth! Our 30-footer was one of the smaller boats; 60 to 80 feet seemed to be the norm.
A family of manatees had taken up residence in the warm waters of the marina. It was a rare and exciting privilege to see these nearly-extinct sea mammals surfacing right next to our boat. A free trolley, which runs every 15 minutes, will take you throughout the property. If you wish, it will drop you a couple of miles south at the end of the resort, where several excellent restaurants are located.
The next morning we sailed up the ICW on 20-knot winds to Pelican Bay where we anchored for lunch. We brought along our masks and fins as we had been told the previous year that snorkeling on the Gulf side of the adjacent La Costa Island was very good. Not true! Visibility was less than 3 feet. This area is a State Park with camping and a public shower, which was welcomed after a dip in the Gulf — water temperature about 72ºF.  However, the shower was colder!
The edge of paradise
A short sail north brought us to the halfway point of our trip — Boca Grande on Gasparilla Island, only 40 miles from our starting point. Turning right at the entrance to Boca Grande leads to a well-protected bayou about 100-feet across. Here you anchor mid-channel and back close to the mangrove trees where you tie off with a stern line. Be very careful when doing so, especially if you have a rubber dinghy as we had. As Ron was tying off, a broken limb punctured one side of the dinghy. Ron quickly rowed back on one pontoon like a ruptured duck.  We hauled it out and searched the boat for a patch kit. Surely there must be one on board someplace! There was none to be found. Fortunately, a neighboring boater provided assistance by ferrying the four of us and our deflated dinghy to a nearby dock.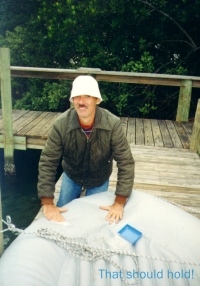 While having dinner at the Lighthouse Hole Restaurant above Miller's Marina store, we contemplated our options: patch the dinghy, swim to the boat, or bum another ride!  At that moment, we noticed a fellow sailor at the next table who had been rowing about in his rubber dinghy earlier in the day. Introducing myself, I explained our problem. As it turned out, "Bo" did have a patch kit and offered to meet us after dinner with his kit. We thought it would be a simple matter of patching the dinghy and rowing back to our boat. Wrong! The patching instructions advised us not to inflate the dinghy for at least 24 hours after patching. Bo graciously rowed us, one at a time, back to our boat while the dinghy remained on the dock overnight. The unfortunate ending to this story is that Bo fell into the water as he attempted to board his own boat. He told us later, "First time in 40 years of boating I ever got over-my-head wet!" Our dinghy put a hex on everybody!
The next morning we cast off our stern line and motored across the channel to the dock, belonging to the adjacent Pink Elephant restaurant. A sign indicated the dock was reserved for patrons of the restaurant. No problem — we would make a dinner reservation so that we could leave our boat tied up for the day and explore the island. However, before doing so, we had to retrieve our stern line, still tied to the tree across the channel. It always impresses me how helpful fellow sailors are! The first guy we asked happily ferried Ron over and back. Ron volunteered to go because he has a special knack for tying knots that only Ron knows how to untie!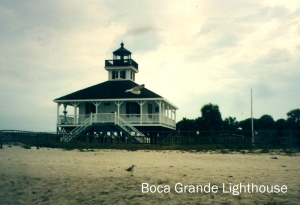 "Boca Grande" means "big mouth" in Spanish, referring to the deep channel which enters from the Gulf of Mexico into Charlotte Harbor. Gasparilla Island is accessible by car and has many tourists, especially in March. We decided to rent a couple of tandem bicycles and explore. The Boca Grande Lighthouse, one of Florida's maritime landmarks, stands at the southern tip of the island.
Built over 100 years ago, it still functions today as a useful aid to navigation. The last train to Boca Grande came in 1982, but the old railroad depot looks better than ever. It was restored in the 70's and a number of boutiques and the Loose Caboose Restaurant now occupy the building. The old railroad bed has since been covered with asphalt and serves as a popular bike path, which runs the full length of the island. Another interesting sight is Banyan Street, an entire block of old trees with twisted trunks and limbs which have grown together to make a dense tunnel for traffic. Along with the lighthouse, Banyan Street is probably the most photographed landmark on the island.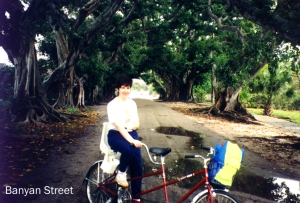 We spent the remainder of the day walking through the downtown area, poking in and out of historic buildings, art galleries, and hotels of the rich and famous, such as the stately old Gasparilla Inn.
Back to reality!  Our dinghy still had to be tested for seaworthiness. We pumped it up and rowed about the channel. The patch held. It was time for dinner and a little celebration.  Although we had made reservations at the Pink Elephant Restaurant, we were told that "shorts were unacceptable attire." We said, "Thank you very much" and had another great meal at the Lighthouse Hole. After dinner, we re-anchored our boat for the evening.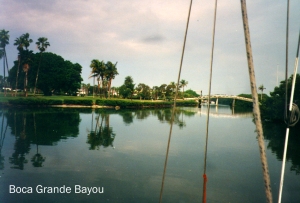 Golfing enthusiasts will find a beautiful course at Boca Grande. On one hole, golfers hit across the channel just a short distance from where we were anchored. Six balls landed in the water short of the green during the time it took us to eat breakfast!
HEADING HOME
Jacques had suggested we visit the 'Tween Waters Marina on Captiva Island, just a few miles south of the South Seas Plantation. It was on our way home, so off we went.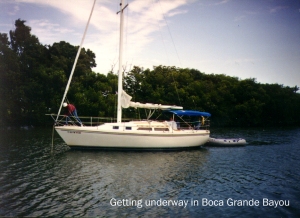 The prevailing winds in March are 10 – 20 kts from the southeast; however, we were fortunate in that the winds had shifted to the northwest for our return trip, allowing us to run the ICW under full sail.
Cabbage Key
Along the way, we docked at Cabbage Key, a mangrove-covered mound of shells dating back 1000 years to the Calusa Indians. An inn, bar, and restaurant occupy what was once the home of mystery novelist Mary Roberts Rinehart. Since the restaurant was full, we spent some time walking the nature trails at this popular tourist destination.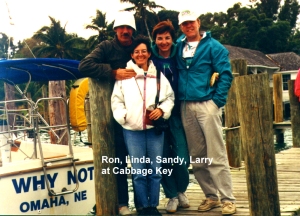 Back at the restaurant, we found the menu limited, but the atmosphere unique. The walls and ceiling are posted with dollar bills, signed and dated by patrons over the years. We estimated the value of the wallpaper to be about $50,000! During our lunch, five people taped up dollar bills in various locations. Early retirement is a definite possibility if I can just get this tradition going in my living room!
A short 10-mile sail and we were tying off at the 'Tween Waters dock. For $1.25 per foot, we had access to a pool, showers, water, and shore power. Gift shop items were extra! Within several blocks of the marina are a number of notable restaurants, including the "Bubble Room" which is a zany place well known for its gigantic desserts. We had eaten fish almost every night of our trip, so we chose the funsy Canoe Club for pizza, free popcorn, and the "best pina coladas on the island."  Then we went to the nearby Crow's Nest lounge and listened to the "Skeeter Branden and Highway 61" blues band — complementary admission to those staying at the marina.  Only in paradise!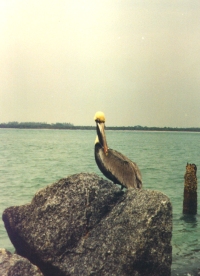 That night, as we settled in, we had the only rain of our trip. By morning, we were looking at another perfect day, a 15-knot northwesterly and clear blue sky. We spent the morning walking on the beach, stopping in at Captiva Island's oldest resort, 'Tween Waters Inn (one notable guest was President Theodore Roosevelt). The location and excellent shelling in this area inspired Anne Morrow Lindbergh's "Gifts from the Sea." "Here, where the gentle breezes and clear waters of the Gulf of Mexico caress white sand beaches lined with coconut palms, you will find pleasure in this uncrowded and welcoming atmosphere." I never read Anne's book but I did read the Inn's brochure!
We can do this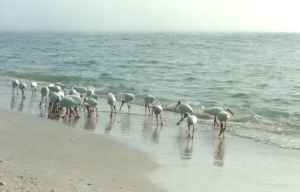 We departed at 1300, with a plan to have lunch on uninhabited Chino Island, just a short distance away. Our Sailing Directions Guide indicated we could access the backside of the island through a narrow channel about five feet deep by "bumping" our way in. The chart showed the channel to be 10-feet deep although unmarked. After some debate between Captn' Mac and certain crew members, we (Captn' Mac) decided to try this backdoor approach. We sailed to a point just off the island and then motored slowly with one person forward and one eye on the depth sounder:  6 feet, 5 feet, 4 feet, bottom! Fortunately, we were able to make a quick U-turn as sand is very forgiving (much more so than the crew). We had lunch underway with crow for the captain. Sandy says I like to live on the edge … her edge!
OUR LAST NIGHT OUT
Within a few hours, we were anchoring on the lee side of York Island, just a short hop from Port Sanibel Marina where we had to have the boat back by noon the next day. After briefly exploring this small island, we rowed back and made up a huge pot of spaghetti. As the sun dropped gently into the Gulf waters, the sky was transformed into a glowing blaze of crimson. We sat in the cockpit and raised our glasses to toast another (almost) perfect day in paradise.
The next morning, we motored through the "Miserable Mile," a section of the ICW so named because intermittent crosscurrents tend to push a deep keelboat out of the channel onto shoals. However, we passed through at nearly slack tide with no perceptible drifting. Within a couple of hours, we were tying off at our point of departure, having traveled a mere 100 miles in six days. We followed Tom's advice and smelled the flowers along the way!
If you're planning a sailing trip and haven't been to the west coast of Florida, give it a try. Like the lady said … you've got paradise right here. We quite agree.
For info:
Fort Myers Yacht Club
(No longer in business)
United States Power Squadrons
Website: www.usps.org